Membership Application
2022/2023 Annual Business Investment Listing
You can join the Midstate Chamber of Commerce for the following levels of investment. Additionally, we have created an alliance with the Hamden Regional Chamber of Commerce, called the Nutmeg State Chamber Alliance. This added benefit creates an opportunity for members to join the Hamden Regional Chamber at a discounted rate, extending your visibility into another region at a lower cost. This partnership is not a merger but, rather, a deliberate and a concerted effort to expand your business' marketing reach and take advantage of another chamber at a discounted cost.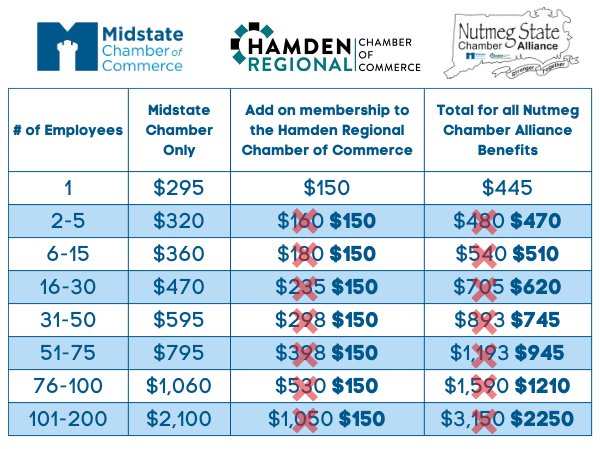 *There is a one-time setup fee of $20.00 for each new member. Dues are not deductible as a charitable expense but may be deducted as an ordinary and necessary business expense. Consult your Chamber member financial advisor, accountant, or tax attorney. We accept checks, MC, Visa, Discover, or American Express.
If you'd like to download a Membership Application, you can complete it offline and submit it by email, mail, fax, or in person. Otherwise, fill out our secure form below and get started today!
Complete Your Application Online

Note: Our credit card submission page is secure.
* Denotes required field