Member Directory
Event Facilities
The Midstate Chamber of Commerce Membership Directory contains a complete and up to date listing of all our members. Please tell our members you found them through the Midstate Chamber web site.
View all categories ›
Augusta Curtis Cultural Center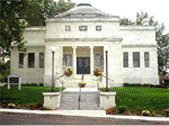 Web Site: http://www.curtisculturalcenter.org
175 East Main St., P.O. Box 4173, Meriden, CT 06450
Tel: (203) 639-2856 Fax: (203) 630-4263
The Augusta Curtis Cultural Center is an arts & cultural center that also is used for special events such as weddings, receptions, and business meetings.

Member News |

Driving Directions |

Contact