News
Workforce Alliance News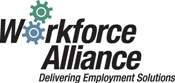 Web Site: http://www.workforcealliance.biz
560 Ella T. Grasso Blvd., New Haven, CT 06519
Tel: (203) 624-1493 Fax: (203) 562-1106
The Workforce Alliance provides valuable services for job seekers AND employers within the South Central CT region. There is never a fee for job seekers or employers Proud partner with American Job Center Network.

View all News Articles for Workforce Alliance
---
Member News
June 22, 2020

Workforce Alliance is helping recruit and screen qualified candidates, American Job Centers will open by appointment only starting July 15 American Job Centers in New Haven, Meriden, Middletown will reopen for in-person appointments as needed beginning Wednesday, July 15. Phone and video conferencing contacts, plus online workshops, orientations, skills training and job postings will continue on the workforcealliance.biz website. Workforce Alliance continues to offer South Central CT companies free hiring assistance, virtual job clubs and access to pre-screened candidates. Employers with hiring opportunities or interested in grants that offset 50% of eligible new hire wages while they learn essential job skills should call Workforce Alliance Business Services Coordinator Wanda Lary at (203) 867-4030 x 254. As a partner in the CT Back to Work Initiative, American Job Centers have trained coaches to help employers utilize Metrix Online Learning and other new resources including the Indeed CT online portal and this week's Indeed CT Hiring Event June 16-18.





Member News is provided as a service of the Midstate Chamber of Commerce and is also featured in the monthly "Chamber News" newsletter mailed to members.

The "original publication date" of Member News articles posted on this web site reflects the date this article was added to the Chamber database and may not necessarily reflect the date such news events occurred.