News
MidState Medical Center News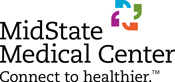 Web Site: http://www.midstatemedical.org
435 Lewis Avenue, Meriden, CT 06451 - 2101
Tel: (203) 694-8200
MidState Medical Center, consistently rated among top hospitals for patient satisfaction, offers private rooms and state-of-the-art health services offered by highly skilled physicians and staff.

View all News Articles for MidState Medical Center
---
MidState Medical Center was chosen recently to rec ...
August 2, 2000

MidState Medical Center was chosen recently to receive the 2000 Corporate Friends Award, which was presented by the American Cancer Society. The award was given in appreciation of MidState's continued support and cooperation in the American Cancer Society's fight against cancer.





Member News is provided as a service of the Midstate Chamber of Commerce and is also featured in the monthly "Chamber News" newsletter mailed to members.

The "original publication date" of Member News articles posted on this web site reflects the date this article was added to the Chamber database and may not necessarily reflect the date such news events occurred.